PEARS & PERRYS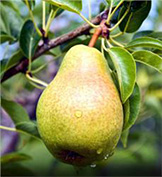 BARTLETT PEAR
The Bartlett Pear we know today in North America is the same variety that is called the "Williams" in many other parts of the world. Discovered originally in 1765 by a schoolmaster in England named Mr. Stair, the Bartlett was first referred to as Stair's Pear. A nurseryman named Williams later acquired the variety, and after introducing it to the rest of England, the pear became known as the Williams Pear. About 1799, Mr. James Carter imported several Williams trees to the United States, and they were planted on the grounds owned by Thomas Brewer in Roxbury, Massachusetts. Later, Enoch Bartlett of Dorchester, Massachusetts acquired the Brewer estate. Not knowing the identity of the trees, Bartlett propagated and introduced the variety to the United States under his own name. It was not until 1828, when new trees arrived from Europe, that it was realized that Bartlett and Williams pears were one and the same. By then it was too late… the variety had become widely popular in the U.S. under its adopted name… the Bartlett.
Bartletts are harvested when fully mature, but before they become ripe. Pears are a unique fruit in that if allowed to ripen on-tree, natural deposits of lignin and cellulose will develop in the flesh, causing a "gritty" texture. Our pears are harvested and then allowed to ripen; you can expect a smoother texture with sweeter flavor.
Bartletts are the canning pear, but they are also delicious eaten fresh. Their wonderful flavors and smooth texture are to be enjoyed in a range of cooked and freshly prepared dishes. A favorite fall desert is freshly sliced Bartlett wedges with cheese. Remember pears can be substituted in any recipe calling for apples.

BOSC PEAR
Bosc Pears have an interesting and, as yet, not completely resolved history. It remains a matter of contention whether Bosc Pears are of Belgium or French origin. What is known is that Bosc Pears were discovered sometime in the early 1800's. The most common name in Europe is Buerré Bosc, which identifies the fruit as "buttery" and was named after M. Bosc who was the director of the Paris Botanical Garden. Here in the United States, the history of Bosc Pears is more certain. The variety was first planted in 1832 in the eastern U.S. Now, Bosc are grown largely in the Northwest, as the trees were found to thrive best in the soil and climate of Oregon and Washington States.
Bosc Pears are an elegant variety, with distinctive characteristics that set them apart from other pears. The brown skin hides a delicious, sweet-spiced and firmer, more crunchy flesh. This firm dense flesh makes them ideal for use in baking, broiling or poaching. They have a somewhat spicy, acid flavor that holds up well to heat. They retain their shape and texture better than other varieties, and their flavor is less likely to be overwhelmed by the use of spices like cinnamon, clove or nutmeg. Of course, they are also excellent for fresh eating, particularly by those who prefer a more firm texture. They poach beautifully.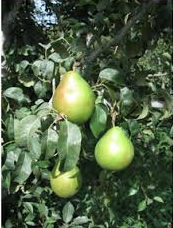 D'ANJOU PEAR
Anjou pears are thought to have originated in France, in the vicinity of Angers. The variety was introduced to England early in the 19th century. Called Beurré d' Anjou, they were introduced to America in about 1842. The name has been shortened simply to "Anjou."
The most important fact to understand about Anjou pears is that they do not change color as they ripen. Unlike Bartletts, another familiar green pear variety that does change to yellow during ripening, Green Anjous will remain green even when fully ripe. Their skin is yellow-green or light green, and they have tender, juicy flesh that is less granular than other types.

PERRY PEARS
A perry pear is used to make one of the country's oldest and most traditional drinks –  a sister to cider and the sparkling version of which was once dubbed by Napoleon as the 'champagne of Britain'.
Perry pears are not for casual munching, although some were eaten and used for cooking in days gone by. Small, hard and packed with tannins, they were bred for centuries for one reason only: to make the world's best-tasting Perry.  When you try and eat it, the taste is pretty awful, full of acids. But press the juice out and those tannins and acids turn into something fantastic.
Ancient Perry pear trees were long-lived and immense; so long-lived, in fact, that many are still alive today. Some are as many as 300 years old and still bear fruit. And they're huge—immense—sometimes 80 feet tall and 8 feet or more in trunk circumference. Picture an ancient oak tree that grows pears: those are the surviving Perry trees of England's West Midlands.
The Perry trees at Harmony Orchards will be grown on trellis, keeping the size manageable.
Some of the varieties that Harmony is growing:
Barnet:   Fruit small.  Fallen fruits resemble baby hedgehogs!
Blakeney Red:  Fruit medium-sized, crisp, juicy, mildly acid
Brandy:  Fruits are turbinate with low tannin content
Butt:  Very firm fruit that does not rot readily, fruit is turbinate or rarely pyriform. It is yellow or greenish yellow, with russet around the stem and eye
Gelbmostler:  Fruit medium to large, globular, astringent
Gin:  Heavy, conspicuous spur systems on vigorous tree. Scab resistant.
Normannisher Ciderbirne: Fruits small, turbinate, greenish-yellow, russetted with rather dry flesh.
Yellow Huffcap:  Makes excellent quality Perry; must be shaken before ripe to prevent rotting on the tree. All of this fruit will be used to make Perry Cider by Tieton Cider Works.