DESSERT APPLES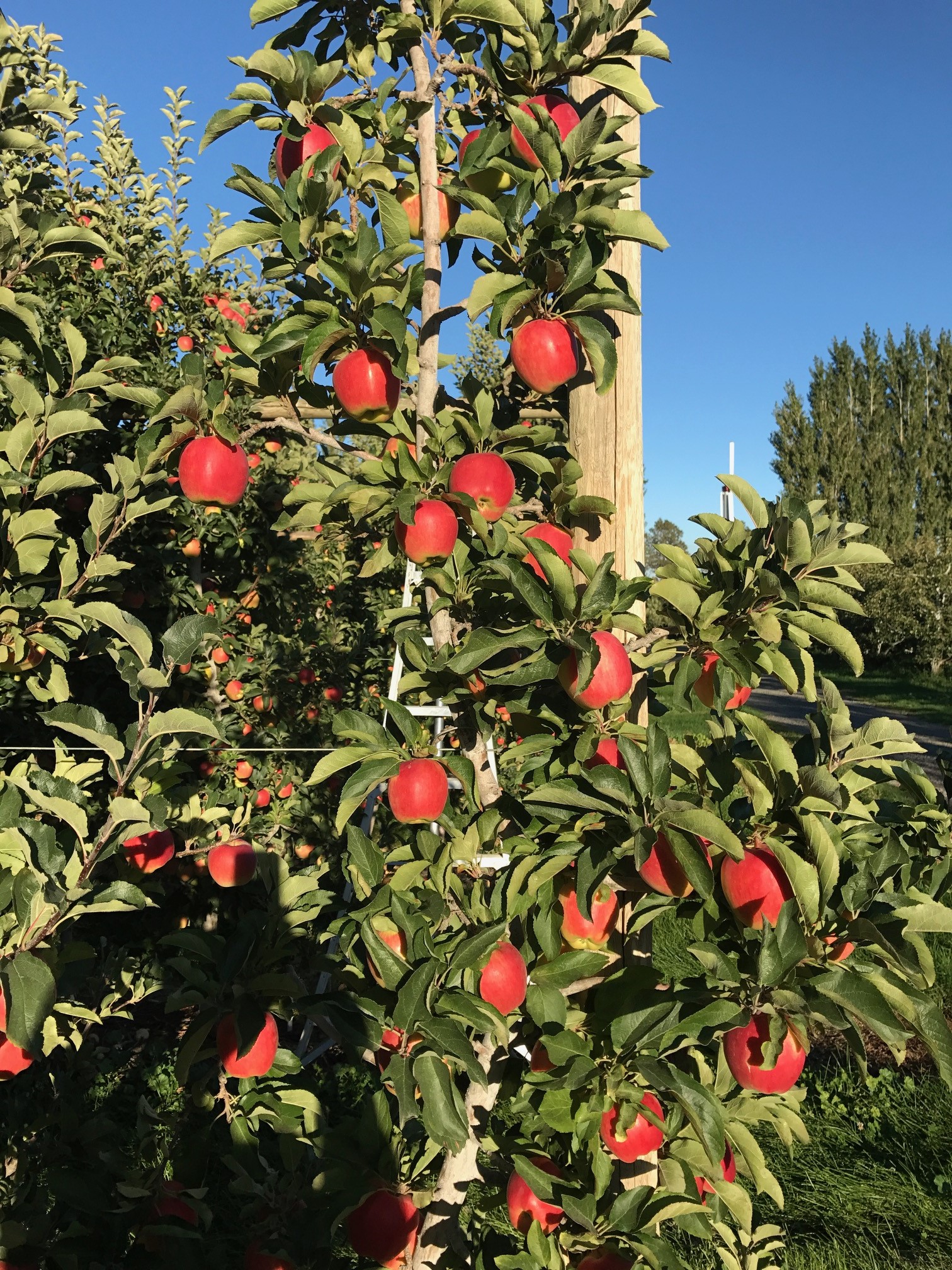 AMBROSIA APPLES
Ambrosia is defined as something with a delicious flavor or fragrance, and that is exactly what this apple is: juicy, crisp, tender, and creamy. It has a sweet honey taste and an almost perfumed smell. The skin is smooth, artistically brushed with a bright, almost iridescent pink blush over a creamy-yellow background. It is a delight to look at and a joy to bite into with its tender and juicy flesh, very fine, crisp texture and sweet flavor.
This variety started as a chance seedling, possibly the offspring of Red Delicious and Golden Delicious trees, and was nurtured to tasty success by Wilfrid and Sally Mennell of Similkameen Valley, British Columbia. They discovered the apple growing in their orchard in the early 1980's and first marketed it in 1997. The apples had the general conical shape of the reds and goldens nearby, but everything else about them was different. Ambrosia is a very civilized, refined apple, destined to be loved by connoisseurs of the good life everywhere.
It is a sweet, low-acid apple with a pleasing aroma. Ideal for snacking and perfect for baking, this apple can be used in any of your apple recipes. The flesh holds its creamy white texture and is slow to brown after cutting, making it ideal for fresh fruit salads.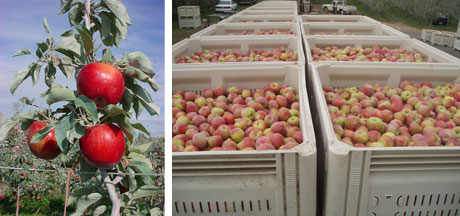 HONEYCRISP APPLES
In the history of the apple industry, the Honeycrisp variety is a new kid on the block. Whenever we tell people that we grow apples, the first question they ask is, "Do you grow Honeycrisp?" The name perfectly describes this young apple, making it an over- night consumer favorite because of its deliciously crisp snap on the first bite. For sweet apple lovers Honeycrisp is a favorite.
Developed by the University of Minnesota from a Macoun and Honeygold cross (the Honeygold itself a cross between the Golden Delicious and Haralson), this new apple variety was introduced in 1991. It is believed to be the best, most exciting new apple to be propagated in America.
The Honeycrisp apple sells itself. No other apple matches its crispness. The fruit naturally grows large, making it the perfect fruit to slice and share. You can also cook with Honeycrisp, but most feel it would be a waste as it such a perfect piece of fresh fruit. The Honeycrisp has multiple color shadings, stripes, freckles, and a nice round apple shape. If Cezanne was painting apples today, he would choose a Honeycrisp.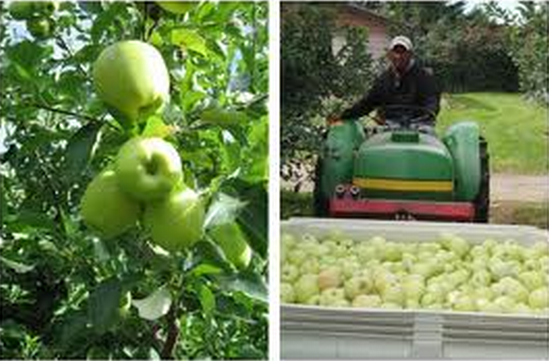 GOLDEN DELICIOUS APPLES
Sweet and fragrant, the lightly textured green-gold skin of the Golden protects a crisp interior and helps the apple retain its extra juiciness. The appealingly uniform shape and the wide variety of uses have helped propel Golden Delicious into becoming the second most popular apple in the United States.
Andrew Mullins discovered a unique and mysterious sight blooming among his apple orchards in 1905. A bumper crop of golden fruit shone from the boughs of a tree which Mullins knew he had not planted. Mullins watched for the next nine years as this remarkable tree produced its delectable fruit–even during seasons when other trees did not. He finally took some samples of this large yellow apple (simply named "Mullins' Yellow Seedling") to Stark Brothers Nursery in 1914. Possibly a chance seedling from a Grimes Golden and Golden Reinette, Stark Brothers bought propagation rights and renamed the apple "Golden Delicious," as a companion to its' Red Delicious (though the two varieties are not genetically related).
The dry, warm climate of Eastern Washington is perfect for this delicate yellow beauty. They are harvested in September and available all year. When choosing the fruit in stores the more yellow, the better.
Mellow and sweet, Goldens are an all purpose apple, great for both fresh-eating and including in salads (because the flesh stays white longer). Golden Delicious maintains a rich taste when baked or cooked in apple sauces, apple butter, or apple pies. They are also considered one of the best choices for apple cider.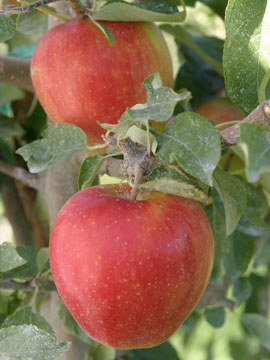 JONAGOLD APPLES
This juicy, orange-tinted apple has a tangy-sweet flavor. It is excellent for fresh eating, cooking and making a great pie. Noted for its large size, beauty and flavor, the versatile Jonagold is a taste test winner. Washington's warm dry summer and cool fall ensure that the delicate flavor develops fully for September harvest.
Just as its name suggests, this variety is a cross between Golden Delicious and Jonathan. The apple was developed in 1968 in a breeding program at the New York State Agricultural Experiment Station at Geneva, New York. It is one of the leading commercial varieties on the European continent, particularly in the cooler climates of Belgium and Holland. There are now over 70 strains of the variety and, depending on strain and climate, the color varies from pale green-gold with faint red stripe to solid red. Here at Harmony Orchards we grow a red-striped strain.
Containing the tart-sweetness of a Jonathan apple and the juicy crispness found in the texture of the Goldens, the subtle and complex taste seems to be at its best for several weeks after picking. Jonagolds are delicious when eaten fresh but it is also a sweet-tart dessert apple. They are an excellent choice for apple pies, delicious in salads, and hold their own when paired with strong cheeses. When the first ripe Jonagolds appear we make applesauce for our Sunday morning pancakes.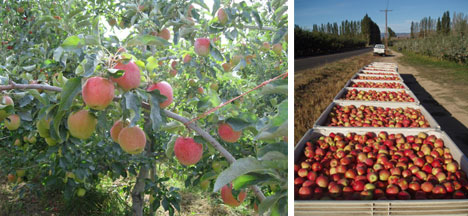 PINOVA APPLES
Pinova is a new apple variety with old-fashioned apple flavor. It is a bi-colored apple and a favorite among those who like a little tartness to their apples. The fruit is exceptionally crisp and juicy, with a firm, dense flesh. It has a mild, well-balanced sweet-tart flavor, which actually improves in storage. If you like a crisp, sweet, and juicy apple you don't want to miss this promising new variety.
Bred in Dresden, Germany, the variety was introduced in 1986 and has since become very popular in Europe. Its family tree includes 'Duchess of Oldenburg', 'Cox Orange Pippin' and 'Golden Delicious' varieties. Ripening in mid to late October, the apples have a distinctive dark red blush over a yellow background color and prominent lenticels. The Pinova stores exceptionally well, retaining its distinctive crisp and crunchy texture for many months. This apple is good for both fresh eating and cooking, and has a good sugar/acid balance.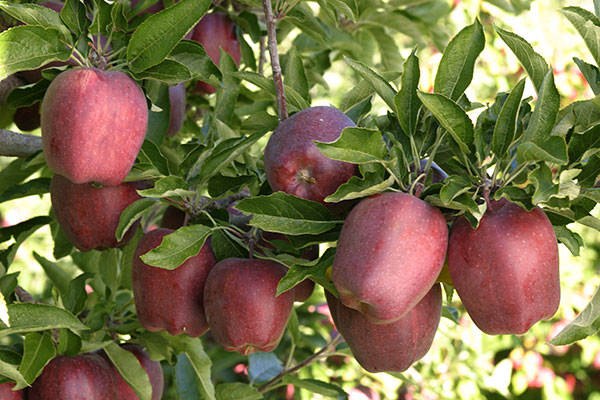 RED DELICIOUS APPLES
The deep red color and classic heart shape of the Red Delicious have helped make it the symbol of the American apple. It has been said that Americans eat apples with their eyes. For most of the 20th century, Red Delicious was the most popular variety in the United States, making the case for a shiny red apple.
America's favorite snacking apple, the Red Delicious is a classic. Washington apple growers have been producing the world's best Red Delicious apples since the 1920s. The heart-shaped fruit is bright red and sometimes striped, while the flesh is crunchy with a mildly sweet flavor. Many in Washington have grown this apple, but we truly have the ideal climate for this variety. Our higher elevation with warm days and cooler nights brings on the red color while allowing the flesh to develop the sugar that makes them taste like candy and retain a firm crunch. We still harvest fruit from our 60-year old Starking Delicious trees.
Unlike many of the new varieties, the Red Delicious apple doesn't have a distinctive parentage. Discovered as a chance seedling on the farm of Jesse Hiatt the variety was originally known as Hawkeye, but was changed to Delicious after so many who tried the variety declared it to be the most delicious apple they had eaten.
The fruit is best enjoyed fresh or in salads. It is not an apple that is recommended for cooking or baking.